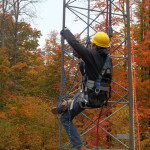 VSS101 – Introduction to Tower Climbing
$350.00
This one day course will cover the fundamentals of tower climbing and PPE safety. Students will spend the first half of the day in class learning the basics of climbing, equipment, tower styles and site hazards. Balance of the day will be spent on a tower practicing and performing the tasks learned in class. Class is limited to 8 students.
CERTIFICATE TRAINING
*These tower climbing training classes are recommended for the person who is new to the industry and has no experience in tower climbing and climbing equipment terminology, use or inspection.                                   
Details Coming Soon
                                              CERTIFICATION TRAINING 
---

VSS212 – Authorized Climber Rescuer  $775.00
This two-day class coincides and interacts with students taking VSS313. Authorized Climber Safety and Rescue exceeds OSHA1926.503, NATE CTS, ANSI Standards and recommendations pertaining to training requirements for fall protection safety. Students will be taught to understand the mechanics and correct procedures for selection, use and operation of the equipment and tools used on the job. This course also covers employee roles and responsibilities, OSHA law, company policy, site hazards, rope, knots, equipment inspection, care and maintenance, rigging, safety plan, coworker rescue, self-rescue, and controlled descent. Class is limited to 8 students.
CERTIFICATION TRAINING
*VSS101 is recommended but NOT required
---
---
VSS313  Competent Climber/Rescuer $975.00
https://verticalsafetysolutions.com/vss-313-advanced-competent-climber-rescuer
This 2 day course is limited to 8 students –  Competent Climber/Rescuer is designed to exceed OSHA training requirements, NATE CTS for Competent Climber Competent Rescuer and ANSI training standards. This certification course is recommended for crew leaders, site supervisors, safety representatives and tower personal who are required to be certified in competent climber/rescuer. This training provides individuals with the required skills to safely distinguish evaluate and control hazards related to tower work at heights. Course will conclude with a full day of hands on tower training for proper selection of fall protection equipment, correctly rigging a variety of rescue equipment for a range of possibilities and, rescue of a victim considering the probable injuries sustained.
CERTIFICATION TRAINING
*Prerequisites Must have 90 on tower work days or more documented and attested to by your employer.  
---
 VSS313R Competent Rescue Refresher – $575.00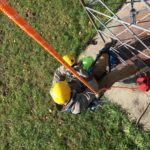 This one day re certification class is designed for previously certified competent climbers only. Class is limited to 8 students. This course meets the annual rescue refresher Course curriculum covers OSHA/ANSI standard changes/updates, product recalls, new products and equipment available.  Students will spend the first 2 hours in  a class room setting with class concluding on a 100 ft SST tower to preform self rescue, co worker rescue, pulley system rescue, hazard assessment, tower rigging and controlled decent using a variety of  equipment.
To register for this course a student MUST have previously been certified in advanced competent climber/rescuer by Vertical Safety Solutions or other reputable training provider with in the last 2 years.  If previous training was from other than Vertical Safety Solutions student Must provide copies of wallet ID card (both sides) with registration. up to 5  business days may be needed for contacting other training provider to verify previous training. There will be NO exceptions to this prerequisite requirement. Class limited to 8 seats.
We Exceed MIOSHA/OSHA, ANSI & NATE CTS
Our tower climbing training classes are designed to exceed the standards, regulations, and recommendations required of the tower industry who must provide fall protection and rescue training to tower climbers, regardless of their task on the tower. All courses consist of interactive classroom sessions, hands on exercises, and real time on a tower to enhance the learning process. Certification courses are developed to promote safety while climbing and exceed OSHA, ANSI, and NATE Climber Training Standards.
What's Included?
Course materials include comprehensive manuals that are a valuable resource during training and in the field. Student manuals contain over 400 pages of information that each student takes home and can be referenced as needed. Certification courses require successful completion of a written exam and tower maneuver test. All courses are documented with individual student records that include exam results, skill observations, field check list, and class hours. In addition to giving our clients copies of pertinent credentials for an employee's file, we also maintain all records for 5 years. Upon successful completion of all aspects of training each student is provided with a unique ID number along with wallet photo ID card and certificate of certification. Student participation is required for all courses.
Class Requirements
Students are required to bring climbing gear to class, If gear is not available contact us to inquiry about renting equipment for class.  Vertical Safety Solutions firmly believes a climber should be familiar with and practice in the same type of gear and equipment that is used on the job. We do provide a wide variety of different harnesses, connecting devices, and ascend/descending apparatus during class that can be tested and used by all students while taking any of the courses offered.
All of our classes are open enrollment and held at Vertical Safety Solutions in LeRoy, MI. Seating is limited to 8 students per class. Seat is confirmed and guaranteed upon receipt of registration and payment. 
See our Training Calendar for class dates and seating availability.
---
Registration Policy
Payment must be received in full to reserve student seat no less than 7 days prior to class date registering for. Class confirmation will be sent after registration is complete and payment is received.
Registration Policy – Payment must be received in full with registration form to reserve student seat. Additional class information will be sent after registration is complete. Cancellation Policy- If it is necessary to cancel your registration for a class the following policy applies. 15 to 30 days prior to registered class date – participant forfeits 50% of class fee, 50% will be reimbursed, cancellation can be rescheduled to a future class within 3 months with no reimbursement and 100% applied to rescheduled class.
14 days prior to registered class date – Participant forfeits 100% of class fee or can apply to a future class within 3 months for an additional 20% reschedule fee.
If 6 student minimum required class participation is not met 7 days prior to scheduled date that class will be cancelled and 100% of registration fee will be refunded.